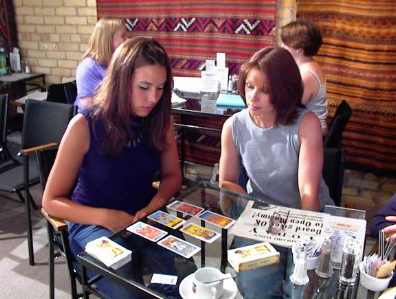 The Threat of the Mummy (2002) is a 106 minute movie created by Christopher Jacobs.
Main Details
Edit
Plot Summary
Edit
When a graduate student gets permission to unwrap an Egyptian mummy for her dissertation, activists steal the body to give it the ancient burial rites but inadvertently bring it back to life. Far from ravaging the countryside, however, this charismatic revived mummy has a carefully planned agenda to gain political control of the world.
Production Information
Edit
The Threat of the Mummy was shot in July 2001, in and around Grand Forks but largely on the campus of the University of North Dakota. The office of Dr. Casey Wallace was the actual Merrifield Hall office of Walter Ellis. Classroom scenes were shot in Merrifield Room 116, the room normally used for Intro to Film classes. The mummy unwrapping sequence was shot in the lecture bowl at Witmer Hall. The dance studio in Chandler Hall was dressed to serve as Diana's apartment, one of the central locations for both this movie and its sequel. Library scenes were in UND's Chester Fritz Library. Museum and coffeeshop scenes were shot at the North Dakota Museum of Art. Restaurant scenes were shot at the Down Under Pub.
A 116-minute roughcut was edited by December 2001 and the 106-minute finecut premiered in April 2002 at the Empire Theatre. After the premiere party, the cast decided to go ahead with a sequel, Vengeance of the Sorceress, which was written over the next few weeks and started shooting in May 2002.
Other Information
Edit
Photo Gallery
Edit
External Links
Edit
Ad blocker interference detected!
Wikia is a free-to-use site that makes money from advertising. We have a modified experience for viewers using ad blockers

Wikia is not accessible if you've made further modifications. Remove the custom ad blocker rule(s) and the page will load as expected.