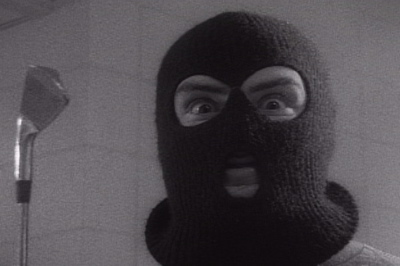 The Make Up (2002) is a 16mm film created by Jeremy Moulton.
Main Details
Edit
Plot Summary
Edit
Three students take a make up exam. Along with their teacher, they daydream during the test.
Production Information
Edit
The movie was made for Advanced Film Production II at Minnesota State University Moorhead taught by Greg Carlson. It was shown in public as part of the Firearms and Margarine presentation.
The majority of the movie was shot in a classroom in the Center for the Arts at Minnesota State University Moorhead. The movie switches between video and film; the black and white film sections represent the characters' dream sequences. Moulton used music by Millencolin, AFI, Mandy Moore, Strung Out, Sick of It All, Death by Stereo, Guttermouth, and Grade to score the movie.
External Links
Edit
Ad blocker interference detected!
Wikia is a free-to-use site that makes money from advertising. We have a modified experience for viewers using ad blockers

Wikia is not accessible if you've made further modifications. Remove the custom ad blocker rule(s) and the page will load as expected.