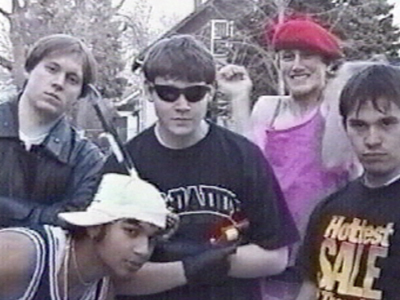 Ressl X (Fake Trailer) (2002) is a short movie created by Tucker Lucas and Mike Graten.
Main Details
Edit
Plot Summary
Edit
A trailer for a fake movie is shown, where the protagonist K-Jaxx assembles K-Jaxx's Agency of Ass Kicking to capture and eliminate The Ressl.
Production Information
Edit
Ressl X (Fake Trailer) was made when Jodi Barbie commissioned Tucker Lucas and Mike Graten to make a humorous video to show her Sociology students after their finals.
In the movie, references are made to three films shown to Ms. Barbie's Sociology class: My Dog Skip, Smoke Signals, and a documentary on the Donner party.
This fake trailer was later made into a feature length film.
The end battle sequence was filmed at Trollwood Park.
Other Information
Edit
Photo Gallery
Edit
External Links
Edit
Ad blocker interference detected!
Wikia is a free-to-use site that makes money from advertising. We have a modified experience for viewers using ad blockers

Wikia is not accessible if you've made further modifications. Remove the custom ad blocker rule(s) and the page will load as expected.