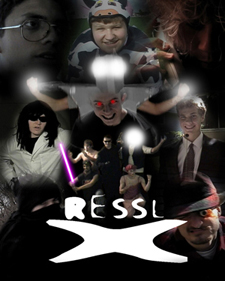 Ressl X (2003) is a movie created by Tucker Lucas and Mike Graten.
Main Details
Edit
Plot Summary
Edit
The Ressl, a being of unspeakable evil, is captured by a group of scientists and augmented with cybernetic armor. When she frees herself, a crack team of agents led by K-Jaxx are dispatched to deal with the menace.
Production Information
Edit
The movie began as a parody movie trailer (see Ressl X (Fake Trailer)), which was shown to students at Fargo North High School in Jodi Barbie's Sociology course. Ms. Barbie had approached Tucker Lucas and Mike Graten to make a humorous video that could ease the tension for students after they had finished taking their final.
The role of Treat was played by multiple actors and had a glowing orb of light super-imposed on his head after the original actor left the project.
DJ Masta Bling dies approximately eight times during the movie.
If every completed scene had been left in, the movie would have been three hours long.
In the background of various scenes, a 1978 Ford Econoline Van painted to look like The Mystery Machine can be seen. This was owned by Tucker Lucas and had previously been utilized on the show 3600 Seconds as Scott Bredell's touring van, The Blue Governor.
External Links
Edit
Ad blocker interference detected!
Wikia is a free-to-use site that makes money from advertising. We have a modified experience for viewers using ad blockers

Wikia is not accessible if you've made further modifications. Remove the custom ad blocker rule(s) and the page will load as expected.