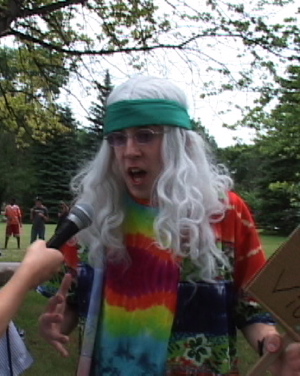 Nova Moonbeam, a socially conscious hippie, is a fictional character portrayed by Zach Sollie during the 2006 and 2007 seasons of Trollwood News at Noon.
Frequently turning up at Trollwood Performing Arts School to protest the martial arts teachings of Alan Estevez or the mistreatment of silk worms in the production of dancewear, Moonbeam escorts Cynthia Cervantes to the wedding of the wild gorillas.
Sollie returned during the 2008 season for a special appearance as Nova.
External Links
Edit
Ad blocker interference detected!
Wikia is a free-to-use site that makes money from advertising. We have a modified experience for viewers using ad blockers

Wikia is not accessible if you've made further modifications. Remove the custom ad blocker rule(s) and the page will load as expected.