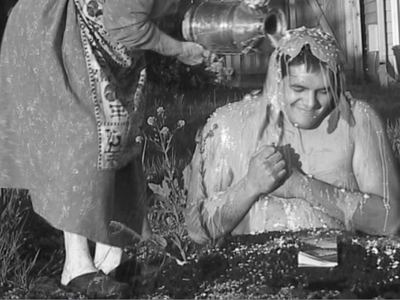 Milk Babies (2006) is a short movie created by LineBenders.
Main Details
Edit
Plot Summary
Edit
Farmer Jim Luke and his mother attempt to gain publicity for their groundbreaking new crop: Milk Babies, human and plant hybrids with an appetite for dairy products.
Production Information
Edit
The movie was made for the 2006 Fargo 48 Hour Film Project and represented the science fiction genre. It was selected for inclusion on the 2006 Best of Fargo DVD. It won awards for Best Writing, Best Ensemble Acting, and Best Film.
The LineBenders team spent over $125.00 on dairy products for the making of the film.
A scene involving the wife of Milk Man Jerry was excised for time. It was later re-inserted for the director's cut.
Mary-Ellen Lucas, who played the part of Mama Luke, is director Tucker Lucas' grandmother. Mama Luke is the affectionate nick-name she is called by family and friends.
Other Information
Edit
Film Festivals
Edit
Photo Gallery
Edit
External Links
Edit
Ad blocker interference detected!
Wikia is a free-to-use site that makes money from advertising. We have a modified experience for viewers using ad blockers

Wikia is not accessible if you've made further modifications. Remove the custom ad blocker rule(s) and the page will load as expected.