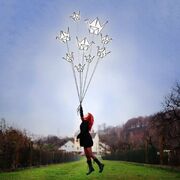 Lise Mette Jensen (b. April 8, 1977) is a moviemaker. She is a producer and owner of Resonable Film, which started in 2007.
Filmography
Edit
As Production Manager/Line Producer
Edit
Tv comercial for NRF (Norwegian Rheumatism Association), 2010
2 tv comercials for complete.no, 2010
25 instructionfilms for Bama.no, 2009
Tv comercials, and 30 banners for Kvasir.no, 2009
Comercial, web banners for sol.no, 2008
3 presentation films for Nordic innovation center, 2010
Beyond redemption, music video El Caco, 2008
Deeper Nail (2007).... Music video by Insense
"Et Lettere Liv".Limelight Film&Tv AS 2006
Am. movie- "The Athlete", 2006
Musicvideo- The Blackbirds "Lovesong" 2006
Comercial; Vrådalen. Filmreaktor 2006
As Director
Edit
Deeper nail (2007).... Music video by Insense
Whore (2007).... Music video by Insense
Beyond Redemption (2007).... Music video by El Caco
As Cinematographer, Tv photographer
Edit
photographer(dop), events/conference for photophono, 2005-2009
Cam. Ass og dop, "Lange flate baller 2" 2007
" Påskenøttene-TV2"- Seefood AS 20
"Sarahs fornemmelse av kultur"- mediacircus 2006
for fotophono AS 2005-2007
Cam ass and Dop, Lange Flate Ballær. Zwart Arbeid 2005
musicvideo- Insense "I'Deviant" 2005
extrem makeover, housedition,Rubicon TV 2005
Søppelkongen. Strix AS 2005
Top Model. Strix AS, 2005
Extreme Makeover, housedition, Rubicon TV 2005
wifeswap,Rubicon TV 2004
comercial; høyang polaris 2004
Dop, movie; "Sinus" 2004
Research, Lyst Bolig. Jarowskij 2004
pictureproducer, Singel 24-7 Rubicon TV 2004
Big Brother. Metronome Productions A/S 2003
Producer, Informasjonsfilm for Omegtech A/S. 2003
Producer, comercial; Dale of Norway 2003
"The bachelor" MTV Juritzen 2003
"Big Brother" Rubicon TV 2003
"Komplottet" MTV-Juritzen 2003
Dv/rigg/ remote,"Make My Day" MTV-Juritzen 200
dokumentar Zwart Arbeid A/S. 2002
Dop/assistent bakomfilm for Harald Zwart. 2002
Dop/assistent, New Media A/S 2001
Videojournalist, TV Østfold 2001
Pressphotographer, Dakota Student. 2000-2001
VJ- fotoreporter, Studio One. 1998-1999
Camera operator, sound operator Studio One 1998-1999
comercial: vrådalen alpinsenter
musicvideo-insense
shortmovie
musicvideo, blackbirds
External Links
Edit
Ad blocker interference detected!
Wikia is a free-to-use site that makes money from advertising. We have a modified experience for viewers using ad blockers

Wikia is not accessible if you've made further modifications. Remove the custom ad blocker rule(s) and the page will load as expected.