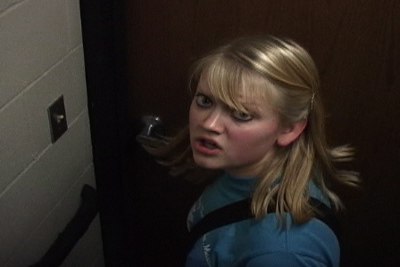 Heidi Gustad (b. 1987) is a moviemaker and musician.
She was also a cast member of Trollwood's 3600 Seconds during the 2005 season, playing a number of characters including Amidala and Apathy Teen Ashley.
She graduated from Michigan State University in 2008 with a honors B.A. in Telecommunictaion, Information Studies and Media and a Film Studies Specialization. She is a member of the band Falcorps and was a member of La Remodea.
She originated the notorious John and Chaytee Saga with long-time friend and colleague, Toby Jones. In the saga, she portrays Chaytee, a woman with a secret.
She was the East Lansing Film Festival's Office Manager in 2007. She is the Lake Michigan Film Competition Director for the eleventh and twelfth annual festivals.
During the summer of 2007, Heidi Gustad interned with documentary filmmaker Melody Gilbert before heading to London to continue her study of documentary filmmaking.
Filmography
As Actor
As Writer
As Director
As Editor
As Producer
As Composer
As Miscellaneous Crew
Production Companies
Photo Gallery
External Links