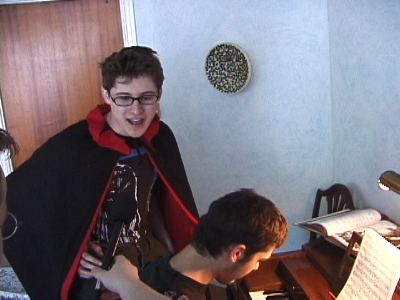 Dungeons and Dragons: The Musical is a sketch from the 3600 Seconds 2002 Season.
Main Details
Edit
Plot Summary
Edit
Reporter Joey Joe Joe Jr. Shavado visits with Lord Terence Silverclaw and the Dungeon Master, who explain their creative vision for a Dungeons and Dragons musical. The musical begins in a tavern, where the barbarian Gromesh meets a thief. The first song is the Tavern Brawl, which includes dancing bar girls and dwarven tumblers. Another song, which Silverclaw mistakenly identifies as the first song, is titled The Apparatus of Kwa'lish.
Lyrics to The Apparatus of Kwa'lish:

The quest has taken us far
From tavern to tavern to sea
I'm just glad you're standing here
Standing here by me
We have the Apparatus of Kwa'lish
It's a mighty and formidable apparatus
At the conclusion of the number, Lord Terence Silverclaw and the Dungeon Master express interest in recruiting Suzy Perkins to play the role of the elvish enchantress Druna Sylvan Torvildsdottir in their musical.
Production Information
Edit
External Links
Edit
Ad blocker interference detected!
Wikia is a free-to-use site that makes money from advertising. We have a modified experience for viewers using ad blockers

Wikia is not accessible if you've made further modifications. Remove the custom ad blocker rule(s) and the page will load as expected.