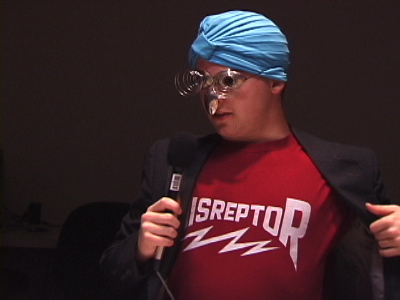 Disreptor is a fictional character portrayed by Tucker Lucas on the show 3600 Seconds. He is part of a group of evil geniuses known as the Union of Evil, led by Baron von Worldeye.
His name is the result of a typo at the t-shirt store (he originally intended his name to be Disruptor). He wears a distinctive pair of spoon glasses with springs attached that he flicks in times of joy.
Ad blocker interference detected!
Wikia is a free-to-use site that makes money from advertising. We have a modified experience for viewers using ad blockers

Wikia is not accessible if you've made further modifications. Remove the custom ad blocker rule(s) and the page will load as expected.