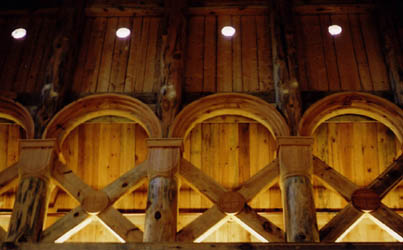 Building a Dream: The Moorhead Stave Church (2001) is a half hour program produced by Deb Wallwork for the Hjemkomst Heritage Interpretative Center in Moorhead.
Main Details
Edit
Plot Summary
Edit
Building a Dream
is a film about a dream realized; how a full scale replica of one of the great early Scandinavian churches, or stavekirkes, came to be built in Moorhead, MN.
Guy Paulson, a local biochemist and wood carving enthusiast, took on this quest to recreate a significant icon that would stand as a monument to the Scandinavian heritage of the Red River Valley. This half hour film about the Hopperstad Stave Church replica probes the history of these distinctive structures and their mysterious woodcarvings, that serve to link the region's people to its rich cultural and religious underpinnings.

This half hour film was commissioned by the Hjemkomst Heritage Interpretive Center in Moorhead, shows daily in their screening room and by request, and DVDs of this documentary are available for purchase by contacting the Hjemkomst.
Production Information
Edit
The program is shown daily during museum hours at the screening room in the Hjemkomst Heritage Interpretive Center.
Other Information
Edit
Film Festivals
Edit
External Links
Edit
Ad blocker interference detected!
Wikia is a free-to-use site that makes money from advertising. We have a modified experience for viewers using ad blockers

Wikia is not accessible if you've made further modifications. Remove the custom ad blocker rule(s) and the page will load as expected.