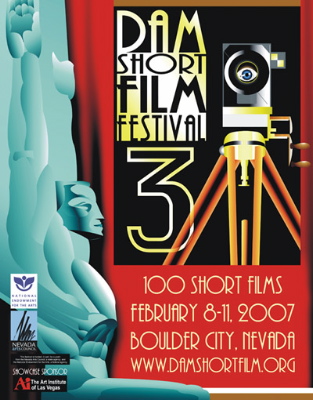 The 2007 Dam Short Film Festival was held February 8-11. All the movies were screened at the Boulder American Legion Hall, and the festival also included a moviemaker brunch panel, a seminar covering the Nevada Film Office, an awards night party, and a reception at the Boulder Dam Hotel.
Festival Programming
Edit
Thursday, February 8
Edit
Documentary: True Life Stories
Edit
Drama A: Life Journeys
Edit
Drama B: Growing Up
Edit
Showcase A: Nevada Discovery
Edit
Science Fiction and Horror A: Monster Comedy
Edit
Science Fiction and Horror B: Beyond the Grave
Edit
Friday, February 9
Edit
Drama C: Crimes and Misdemeanors
Edit
Drama D: 21st Century Surrealism
Edit
Drama E: International Life
Edit
Comedy A: Comedy Universe
Edit
Showcase B: Best of the Art Institutes
Edit
Showcase C: Nevada Filmmaker Focus
Edit
Showcase D: Las Vegas Underground
Edit
Saturday, February 10
Edit
Drama F: Family Time!
Edit
Animation: It's a Crazy World
Edit
Programmers' Picks A: Our Favorite Drama
Edit
Encore screenings.
Programmers' Picks B: Our Favorite Science Fiction and Horror
Edit
Encore screenings.
Comedy B: Comedy Crossroads
Edit
Encore screenings.
External Links
Edit